News
Guest Speakers
Paris Charles and Lee Rothe from the State Racing Magazine, were guest speakers at the SAVSAs January general meeting.
Paris gave an informative brief of how he, and Lee set about to produce a low cost high grade magazine featuring all forms of motorsport in this state.
Paris, from a photographic back ground, and Lee a sign writer, with excellent computer skills have been surprised by the acceptance of their quality motorsport magazine.
They even support our vintage speedway movement with great coverage as well!!.
Lee also sign writes race cars, and Paris does photos, block mounts, and will also place you individual photo on a wall clock.

From the left, President Bill Berlemon, Paris Charles, and Lee Rothe.
_______________________________________________
Guest Speaker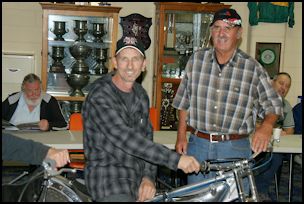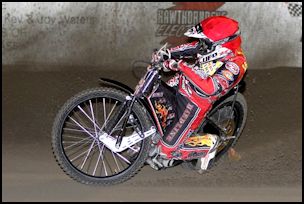 South Australian, former International Motorcycle Speedway Champion, Shane Parker was guest speaker at our November general meeting.
Parker retired from profesional speedway riding, now conducts coaching clinics for juniors. Shane represented Australia in Speedway World Pairs Championship, and has competed in England, Poland, Germany and Sweden, as well as his native Australia.
Parker finished in 5th place in the 1990 Under-21 World Championship in Lviv, Russia, and improved to 4th place in 1991 in Coventry. Parker also represented Australia in various "Test Matches" against visiting overseas teams or all-star lineups during the Australian domestic seasons which generally runs from October to March, as well as test matches in England and Europe.
Shane
entertained with some of his racing stories, local, interstate, and while racing in England and Europe.
In conclusion he was presented with a bottle of wine, bottled for the Rowley Park Reunion.
| | |
| --- | --- |
| Shane Parker, seated on the Barry Farley JAWA. | |

Earlier days, Shane Parker in action.
_______________________________________________
Historic Meeting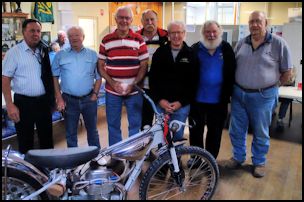 Heres a bit of history. This photo was taken at our recent club general meeting when John Boulger was the guest speaker.
It features past TQ drivers, who are club members that competed at the famous Rowley Park Speedway in the '60s.
From the left, John Boulger (guest speaker on the night), Moss Bray, Peter Glassenbury, Bob Holland, Ian Gear, Peter Donaldson, and Brian Latz.
The Phil Green JAWA is in the foreground.
Click on image to view at a larger size
_______________________________________________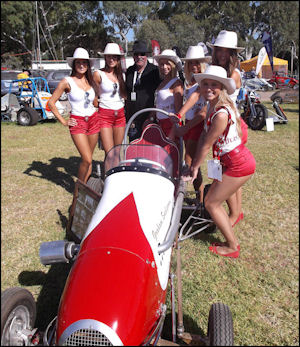 SAVSA member Grant Coombe found time to have his photo taken with the Jim Bean girls, and his Graham Snellgrove replica TQ No. SA2. His TQ was one of the 21 vintage speedway vehicles on display during the 4 day motor sport event.
The Clipsal 500 in Adelaide is one of Australia's largest domestic motor sports events. Every year, this racing event attracts over 300,000 people who gather together to watch as the V8 Supercars take to the streets of Adelaide to roar their way around the street circuit for championship points.
From February 27th to March 2nd, The South Australian Vintage Speedcar Ass. presented some 21 vintage speedway machines, most of which competed at the famous Rowley Park Speedway. This display featured, Speedcars, TQs, Super Modifieds, Hot Rods, Solos, and Sidecars from the past, as well as some modern counterparts.
Click on image to view at a larger size

_______________________________________________

Historic Meeting
Bob Holland owner/driver (left) of the Ern Meagher, Holden powered vintage speedcar No.NSW 73 with Bobby McGee, one of the first drivers of this car No73.
Seated in the car is Bobby Gee's media officer Meg.
McGee came across the SAVSA display at a previous Clipsal event, and immediately recognised this speedcar as the one he drove in the mid sixties, and was keen to reminisce.
Making contact with Bob Holland there, they exchanged a lot of information about car 73's history, and set up. Much to McGees suprise, the car is almost exactly the same as when he raced it.
The most notable change being the roll bar, which has been replaced to meet current standards for vintage displays
Click on image to view at a larger size
________________________________________________
Top Stories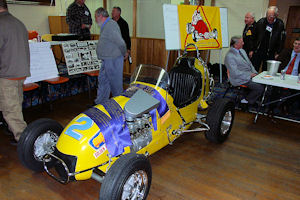 SAVSA's bi monthly general meetings are quite informal. At most meetings we have a guest speaker, and a vehicle on display.
The photo below, taken at a general meeting, is of Ian Gear's superbly restored "Rowe Supercharged Peugeot" speedcar that was driven by Bill Wigzell.
Our guest on the night, seated at the end of the table, (wearing a grey jacket) is Kym Bonython, promoter of the famous Rowley Park Speedway. ("The Place Where Champions Gather") Kym was also a driver of note in speedcar section.
Click on image to view at a larger size
_______________________________________________
From the Archives